Hymn Playing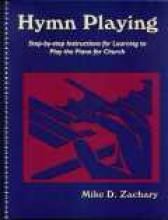 Description:
I happened to come across this book, Hymn Playing by Mike D. Zachary, one day while searching the Internet, and, being the un-impulsive, thoughtful, responsible shopper I normally am, I instantly ordered it. The cover describes it as being "Step-by-step Instructions for Learning to Play the Piano for Church." I have found this description to be quite accurate.
This book is a little light in covering music theory, in that the necessary topics are addressed, but only briefly. This doesn't bother me, though, because when I purchase a book like this, I am doing it for the instruction in improvisation, and not in its ability to teach me how to form a major chord.
Over all, this book is very well written, and most of the disagreements I have with the text are limited to opinions on how something should be played or how a topic should be covered.
Basically, I like this book, and wish I had it when I began learning to play. This is a great, inexpensive how-to book, which you should consider purchasing. This book can also be purchased at the North Valley Publications website, but it is cheaper to order it through Faith Music Missions.
The artwork has been updated since I bought my copy, but you can see the updated version on the linked web page.
114 Pages. Spiral Bound. By Mike D. Zachary. Copyright 2001 by Mike D. Zachary. North Valley Publications. publications@nvbc.org.