Advanced Hymn Playing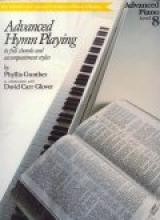 Description:
Here are two books that teach hymn improvisation. They are Advanced Hymn Playing, level 7 and 8 of the David Carr Glover Christian Piano Library. These are the final two levels in a series of method books. Obviously, there are levels 1 through 6 as well, but they do not cover improvisation... only 7 and 8.
This is a good method for playing classical-type hymns (i.e., Faith Of Our Fathers) and gospel songs alike, but (in my opinion) is very block in it's approach to playing. It teaches what it calls "Basic Chorale," "Full Chorale," and "Accompaniment" styles.
32 pages each. By Phyllis Gunther and David Carr Glover. Warner Bros. Publications.